Moonbah Hut – Moonbah River, Jindabyne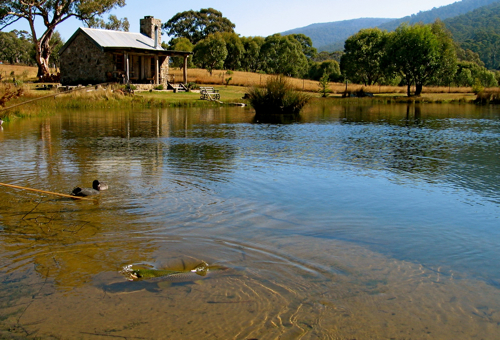 FOR MORE INFORMATION ON MOONBAH HUT, INCLUDING RATES, AVAILABILITY AND BOOKINGS GO TO:
Take a breath of fresh air and step back in time.
This unique stone/slab hut, in picturesque Moonbah Valley, has private frontage to the Blue Ribbon declared Moonbah River – the regions most pristine trout stream – complete with resident platypus.
The hut also fronts a small dam containing brown, brook and rainbow trout.
If you're feeling particularly invigorated, go mountain bike riding, (Norco 24 speed suspension bikes are available for hire), or maybe take a dip in the cool, crystal clear waters of the Moonbah River.
If all this sounds a little too tiring, just sit in the rocking chair on the verandah and read a book.
The hut is very cosy (even in -15c) and sleeps a maximum 4 people, ideally 2 adults and 2 young children. There is an 'inside' bathroom, (no outhouses here)
Local telephone is connected, however you can make long distance calls reverse charges, if required.
The bedding is high quality and all beds have electric blankets.
The fishing is outstanding. Expert guiding, tuition and or fly tying, can be arranged. (Rods and all gear required, are available for hire).
One of the hut's most beautiful features is the huge, stone open fireplace and with snow on either Christmas or Boxing Day, on 6 of the past 8 years, the fireplace can be enjoyed on most nights of the year. There is also a wood stove (and a twin electric hotplate) for cooking and a small fridge/freezer to store your catch in. All cutlery, crockery, cookware, etc is supplied.
There are few modern appliances, as the hut is very traditional – No television reception or playstations!
Moonbah Hut is ideal for a unique summer, or winter, getaway.
Minimum 2 night stay
Barbeque
Bedding (Linen)
Cooking Facilities
CD Player
Linen Supplied
Local Telephone
Open Fireplace
Refrigerator
Stereo
Reviews by some of our customers
"What a great hut and in such an idyllic place! We have thoroughly enjoyed our stay. Caught 8 trout and kept 1, (1 1/2 lb), including one from the river here and the rest downstream in open water, using grasshopper pattern and a brown dun."
Lost several other good fish and missed dozens on the strike. We will return!"
Peter & Andrea, Yass, March, 2006.
"The hut is a pleasant 15 min drive from Jindabyne.
Explore the bordering Kosciuszko National Park (100 m from the Hut).
Savor the mountain air and clear night skies with a gazillion stars – an astromoner's paradise.
Go for a walk and see brumbies, wild deer, wombats, 60 plus species of birdlife…..take a picture…..paint a picture…..the scenery is breathtaking"
"Couldn't of had a more enjoyable time if we tried. Wildlife galore – the wombat down by the river was so cute – looked just like the RSPCA ad, but without the bandage! The kangas, emu and brumby harem were great. At night, who needs TV? The frogs lulled us to sleep and the cockatoos visited in the morning. Thanks Brett, we had a fantastic time & look forward to visiting again".