The New South Wales Snowy Mountains Lakes and Rivers are serviced by a number of PFIGA accreditated, world class fishing guides, that guide in all methods of trout fishing including: Flyfishing on both river and lake, land based lure and baitfishing and trolling on the lakes behind boats. Please contact the various guides listed for prices and inclusions:
Steve Williamson Trout Fishing Adventures
Ph.
02 6456 1551
Steve Williamson teachers all disciplines of trout fishing to beginners and experts. He has won numerous tourism awards for his expert service and is a member of the Professional Fishing Instructor & Guides Association. Steve also offers trips for the disabled angler. Half/Full day tours/trips available, river or lake, all gear supplied if required.

Lake Eucumbene Fishing Charters
Ph.
02 6454 1000
Mob.
0428 852 880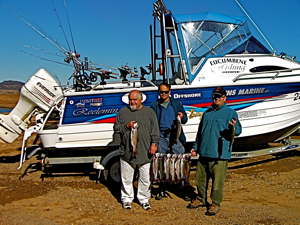 Lake Eucumbene Fishing Charters is owned and operated by Mark Fountain. The service offers full boat charter and skipper or, you can arrange for Mark to drop you at your favorite place on the huge Lake Eucumbene, with per-arranged pick up at a later time.
Col Sinclair – Eucumbene Lake & River Guide
Ph.
02 6454 2260
Mob.
0427 541 180
Col Sinclair, owner of Adaminaby Angler, provides guiding services, both Lake and River for the Eucumbene Area. Call in and see him at the shop 22 Baker Street, Adaminaby (behind the Big Trout).
High Country Outfitters
Ph.
02 6456 2989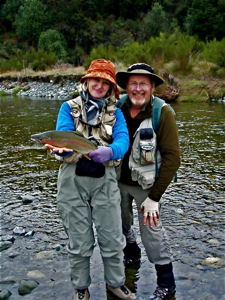 Murray Ogilvie and Andrew Matenson are Federation of Fly Fishers qualified casting instructors and they will help you get a good start to the sport. Even if you are experienced they can offer some advice to help you hone your skills. They offer both casting lessons and guiding services on half or full day basis…