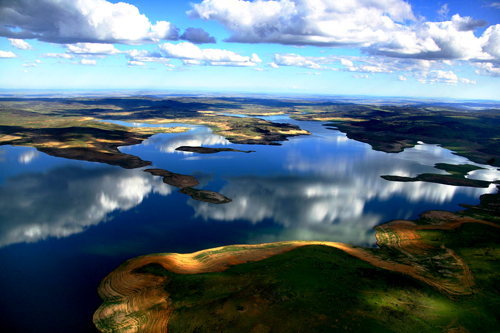 LAKE EUCUMBENE WEATHER REPORT

http://www.visitadaminaby.com.au/weather/details.html

ALPINE TOURIST PARK FISHING REPORT

http://www.alpinetouristpark.com.au/index.html

LAKE EUCUMBENE WEBCAMS (2) & MORE

http://www.eucumbenechamber.org.au/fishing.html

http://www.maritime.nsw.gov.au/webcams/webcam_eucumbene.html

---

Eucumbene is the largest of the Lakes, by volume, that make up the Snowy Mountains Hydro Scheme. It was formed in 1958 when the Eucumbene River was dammed.

Lake Eucumbene is huge, having the capacity to hold almost 9 times the amount of water in Sydney Harbour!

Many argue that Lake Eucumbene is Australia's most productive trout lake. It certainly produces the numbers and regular trophy sized specimens! At 1200m altitude, care must always be taken as snow does fall regularly in winter and, on occasion, even mid-summer! Being such a large body of water, care must also be exercised when boating, as wind conditions can turn the lake into a small boat nightmare with very large waves! Always check the weather conditions before launching the boat and don't venture too far from shore if you are unsure of the likelihood of bad weather.

Adaminaby is the nearest town to Lake Eucumbene and all services are available there, including accommodation fishing gear, tackle and bait. The lake provides unlimited fishing opportunities and all forms of fishing are permitted. Camping on its foreshores is not permitted, however there are a number of caravan/camping grounds that provide all the usual choices. There are caravan parks located at Braemar Bay, Buckenderra, Old Adaminaby, Anglers Reach & Providence Portal. All of these excellent parks provide full facilities for the fisherperson, including boat hire & bait. There are also numerous boat ramps and launching points.