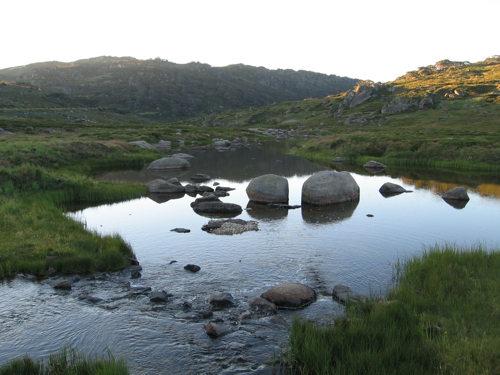 Betts Creek runs into Spencers Creek at the point below the bridge, where Spencers crosses the Summit Road. It can be fished above the point where it runs into Spencers however, rarely holds anything more than a few very small rainbows. Spencers Creek, (a better option), begins up at Mount Stillwell, above Charlottes Pass Ski Village. It is a true alpine stream and is covered in snow during the winter months and often, much of Spring. Spencers leaves Charlottes Pass and through Johnnies Plain before crossing the Summit Road and eventually joining the Snowy River. There are very respectable pools on either side of the summer road, that often hold large numbers of both brown and rainbow trout. Spencers does hold the odd larger fish. Both of these creeks are best fished in mid-summer. Be prepared for any weather, even in mid summer!
Best flies are: Royal Wulff, Red Tag, Parachute Adams.
Mobile telephone coverage in this area is very poor or non-existant until returning to Perisher Village.