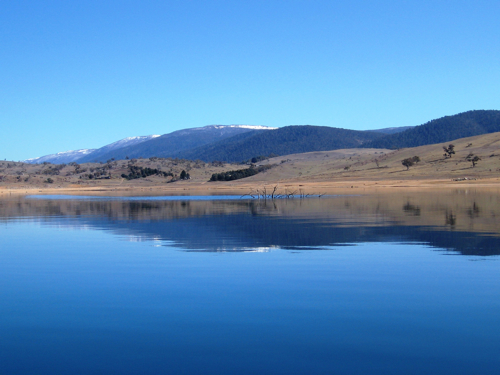 The township of Jindabyne overlooks the lake and is the gateway to the major ski fields. Jindabyne township is a 1hr 45 minute drive from Canberra, a 5 ½ hour drive from Sydney, or a 7hr trip from Melbourne, all on sealed highway. If you don't have your own vehicle, you can hire a vehicle from either Sydney, Canberra, or Melbourne Airports or, alternatively, various Bus companies provide a daily service to the area, from Canberra or Sydney.
Lake Jindabyne receives its inflows from the Snowy, Thredbo and Eucumbene rivers and their tributaries. It sits at 930 metres elevation and has a well deserved reputation as one of the finest trout producing lakes in Australia. The lake holds Brown, Rainbow and Brook Trout, as well as Atlantic Salmon.
There are no boating restrictions on Lake Jindabyne and there is a concrete boat ramp near Snowline Caravan Park, along with numerous other launching points around its foreshores for smaller boats. All methods of fishing are permitted however, as with all waters within the region, a New South Wales Freshwater Anglers Licence is required. These licences may be purchased online, or at fishing retailers in the region.
Jindabyne provides endless accommodation choices, but if you intend to fish the lake in winter, (June long weekend to October long weekend), when most of the trophy fish are caught!, book months ahead, as all accommodation is regularly booked out!
The visiting fisherperson to Lake Jindabyne is well catered for, with Boat Charter, Boat Hire, Fishing Guides, Gear Hire, Bait and Tackle, plus friendly tips from our local fishing retailers on where they have been biting and what they have been falling to.