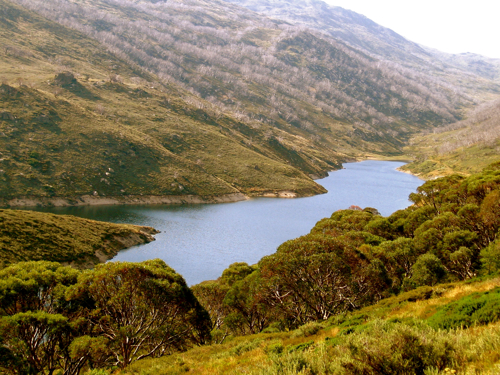 The Guthega Pondage/Dam is situated approximately 39km from Jindabyne, directly below Guthega Ski Village. The Pondage was formed in 1955 as an intergal part of the Snowy Mountains Hydro Electricity Scheme. The water area covers approximately 26 hectares and sits at an elevation of 1585 metres – the highest imoundment of the Scheme. The Pondage was formed by the damming of the Snowy River, not far below the headwaters of the river at the foot of Australia's highest mountain, Mount Kosciuszko.
Fly Box

BEST FLIES

Very small dry flies during summer.
Beetle patterns such as 'Geehi Beetle' in January.
Small green nymphs.
Use long leaders and keep well back from the waters edge.

BEST LURES

Very small spinners such as-

No 1 Celtas
Gillies Spinners
Small 7 gram Tasmanian Devils
Guthega Pondage is open to all methods of trout fishing, all year round. Having said that, at 1585 metres elevation it really is not a winter option. Part of the road to Guthega is dirt. Guthega Pondage does hold some good brown and rainbow trout and fly fishing is the most productive form of fishing. It always fishes best when the water level is rising. Best flies are very small dry fly patterns in summer, with some beetle patterns and small green nymphs . 12 foot leaders are a must.
Small Celtas, Tassie Devils and Gillies Spinners are also worth a try for the lure fisherperson.