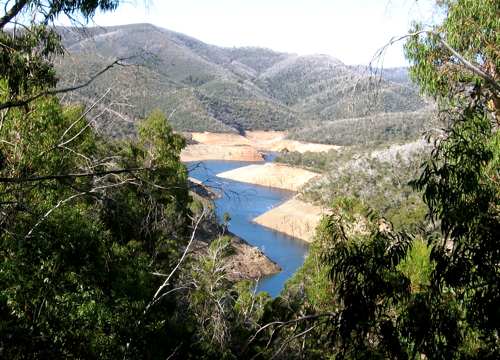 Tooma Reservoir was constructed in 1961, when the Tooma River was dammed, as a part of the Snowy Mountains Hydro Scheme. It is located approximately 21km from the township of Khancoban, or 95km from Thredbo Village. Drive time from Thredbo is around 1hr 45min. This waterway is located at 1209 metres altitude and can experience harsh alpine weather at any time of year. Lake levels can also rise and fall rapidly so appropriate caution is warranted. The lake is open to all forms of boating and a boat ramp is available, although it can be quite difficult to all but 4WD vehicles when the water level is very low.
Tooma Reservoir holds both Brown and Rainbow trout and all methods of fishing are permitted. The lake depth averages around 12 metres and covers an area of around 180 hectares.
Camping is permitted in the Clover Flat Camping area, but you should take your own water. Alternatively, the nearby township of Khancoban provides numerous accommodation options.