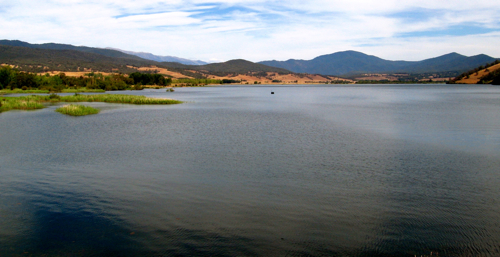 Khancoban Pondage is a 3km long lake that forms part of the Snowy Mountains Hydro Scheme and around it's foreshores lay the town of Khancoban, a town built specifically to house the workers of the Snowy Mountains Scheme, which commenced in 1949. Unlike the higher altitude lakes and impoundments of the Scheme, Khancoban, at only 298m altitude, is more dairy country than high country. However, with the awesome backdrop of Australia's highest snow covered mountains, the scenery is stunningly beautiful. In Spring and Autumn, with wildflowers and falling leaves of all colours, it is a photographers paradise!
The Lake holds brown and rainbow trout, atlantic salmon and even redfin. Huge brown trout are often landed. A 13lb monster was caught in April 2009! The lake is accessible to all forms of fishing and boats are well catered for with an easy access cemented boat ramp.
Numerous accommodation options are available and the local caravan park has boat hire at very reasonable rates. All fishing tackle and bait are readily available.