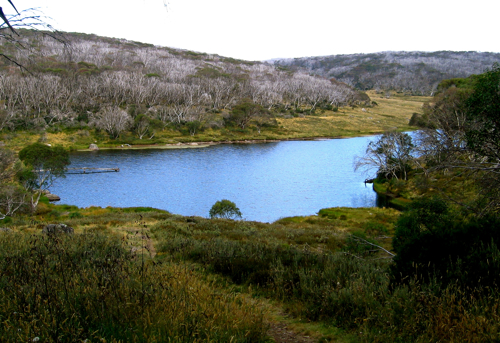 Rainbow Lake is a small lake in the Kosciuszko National Park, situated a short walk, (1.5km), through picturesque alpine bush, off the Perisher Road, on the way to Perisher Ski Resort, or in the spring/summer months, the Charlottes Pass area.
Rainbow Lake was formed when the Diggings Creek was dammed, to provide a water supply for the long since gone, Kosciuszko Hotel. The lake holds brown and rainbow trout, although they are small due to the limited food supply within the lake. The most productive form of fishing is fly, with either a dry fly in the warmer months, or nymphs at any other time. Where Diggers Creek leaves Rainbow Lake it continues down, and can be fished, with some difficulty, all the way down to Sponars Lake. Again the fish are small and wise in Sponars, but the scenery alone is worth a visit.
Rainbow Lake is another high alpine lake and as such, is exposed to extreme weather at any time of year.